Thousands of Nato troops have amassed close to the border with Russia as part of the largest build-up of Western troops neighbouring Moscow's sphere of influence since the Cold War.
The Baltic states, Poland, Romania and Bulgaria are hosting soldiers from across Nato's 28 member states, with more than 7,000 troops deployed in countries bordering Russia.
The UK is the lead nation in Estonia, where 800 soldiers are based at the Tapa base, about 50 miles from Tallinn, helped by French and Danish forces.
British soldiers are also deployed in Poland as part of a US-led Nato mission numbering some 4,000 troops, which is supported by the Romanian army.
In Latvia and Lithuania, around 1,200 troops from Canada and Germany (respectively) are deployed alongside forces from across Europe.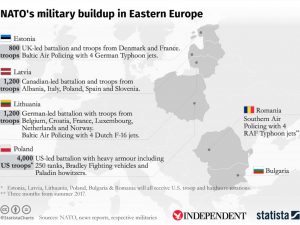 Tanks and heavy armoured vehicles, plus Bradley fighting vehicles and Paladin howitzers, are also in situ and British Typhoon jets from RAF Conningsby will be deployed to Romania this summer to contribute to Nato's Southern Air Policing mission.
Kremlin officials claim the build-up is the largest since the Second World War.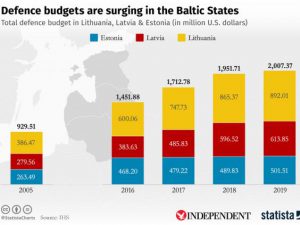 The extensive troop deployment comes as defence budgets in the Baltic States continue to rise. Combined, Estonia, Latvia and Lithuania spent little more than 900 million Us dollars on defence in 2005. Fast forward to 2019 and that figure will have more than doubled to a little over two billion dollars.