President Sauli Niinistö has reminded that contemporary security threats are different from traditional ones and, almost without exception, impossible to fully anticipate.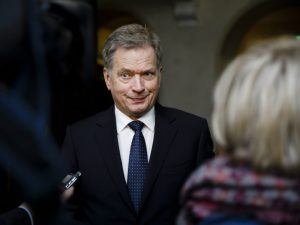 "I'll use climate change and the migration pressures it has created as an example," Niinistö stated in his regular interview on YLE Radio 1 on Saturday. "But I'll say that if we're talking about military security, the threat of war, nothing like that is on the horizon for Finland."
He commented briefly on the increasing defence co-operation between Finland and Sweden, reminding that any discussion of a defence alliance has been rejected as premature in both countries.
"But there are several areas, when it comes to information dissemination and establishing a situational picture for example, where we'd be able to rationalise our operations, if we were able to consolidate some aspects [of them]."Läs artikel