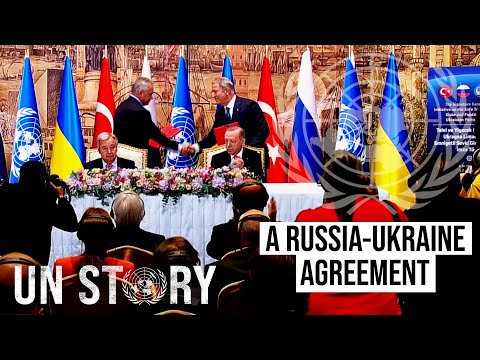 An "unprecedented agreement" on the resumption of Ukrainian grain exports via the Black Sea amid the ongoing war is "a beacon of hope" in a world that desperately needs it, UN Secretary-General António Guterres said at the signing ceremony in Istanbul, Türkiye, on Friday.
The UN plan, which also paves the way for Russian food and fertilizer to reach global markets, will help to stabilize spiralling food prices worldwide and stave off famine, affecting millions.
Russian and Ukrainian Ministers signed the Black Sea Grain Initiative, facing each other at opposite ends of the table, while the Secretary-General and Turkish President Recep Tayyip Erdoğan sat in the centre.
"Today, there is a beacon on the Black Sea," the UN chief said, speaking prior to the signing. "A beacon of hope – a beacon of possibility – a beacon of relief — in a world that needs it more than ever."
Mr. Guterres thanked President Erdogan and his government for facilitating the talks that led to the deal.  He commended the Russian and Ukrainian representatives for putting aside their differences in the common interests of humanity. […]
In April, the Secretary-General met with Russian President Vladimir Putin and with Ukrainian President Volodymyr Zelenskyy to propose a plan. The UN has been "working every day since", he said. Läs artikel